Rights Respecting Committee
December 2019 onwards:

Dunbarney PS is proud to have entered the Vex Robotics competition, which is developing new skills and talents.
Article 29: the right to develop your skills and talents
10th December 2019:

The P4 class watched some inspirational words from Greta Thunberg before their Climate Change Day of Action began.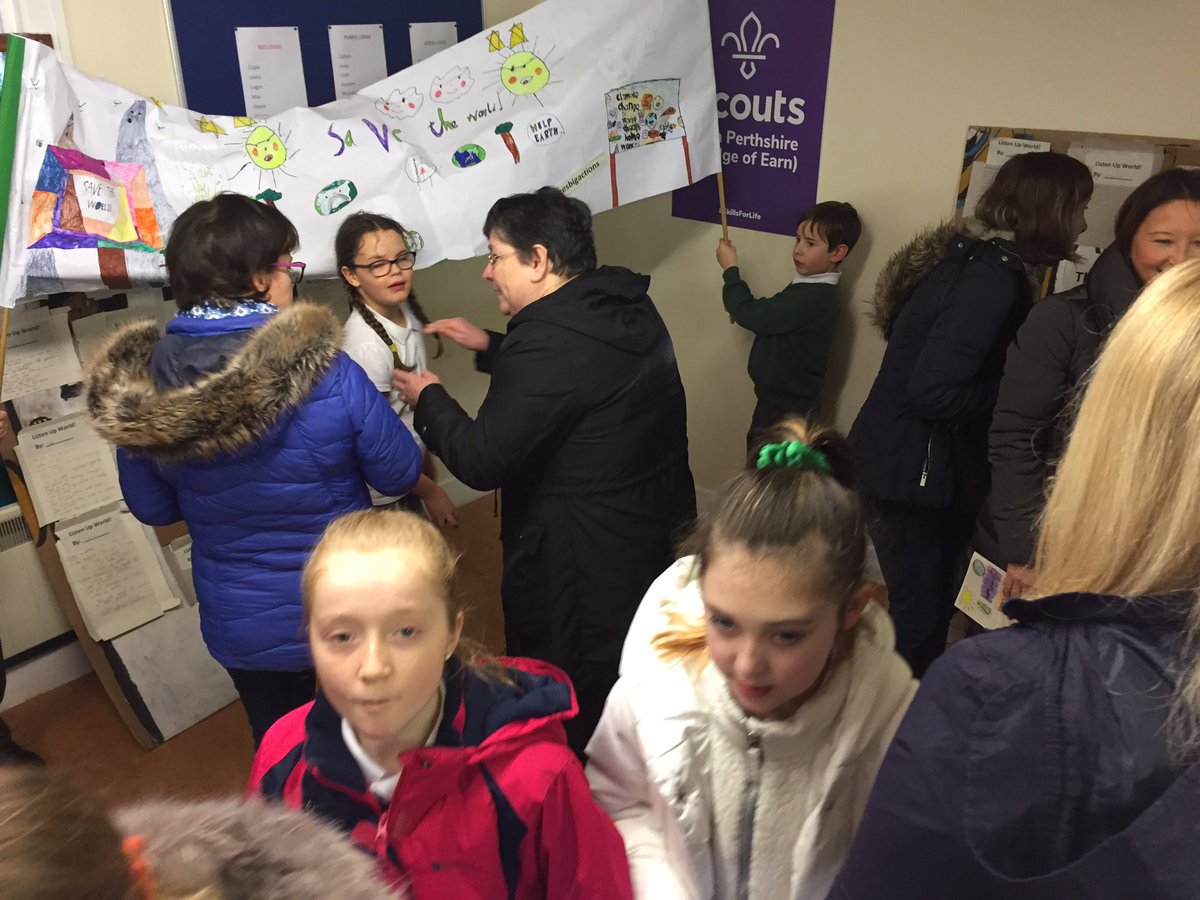 Article 12: the right to give your opinion, and for adults to listen and take it seriously. Article 24: the right to a clean and safe environment.
2nd December 2019:

P4 is becoming part of the #weevoicesbigactions group to raise national awareness about climate change. They are planning a Day of Action on 10th December, and inviting the community to an event at the Scout Hut in Bridge of Earn to learn more, and to take part in a community litter pick of the village. Brig in Bloom have loaned us a big bag of litter pickers for the event. The class have worked hard this term to learn about climate change and its effects, and have made films, posters, and banners to raise awareness at the community event. They have also been recycling rubbish to turn into artworks and display boards.
Article 13: the right to find out things and share what you think. Article 17: the right to a clean and safe environment.
November 2019 onwards:

Miss Figures and the P3 class have joined the Hands of the World Project.

This is an E-twinning project, bringing children from around the world together through the use of music and Makaton to preserve their linguistic identities and to develop an understanding and awareness of other languages and cultures. HOTW is a fully inclusive project for learners of all ages, abilities and nationalities. Learners will engage in a range of activities each month to work collaboratively with others around the world to create collaborative videos, undertake challenges of the week, use traditional and modern methods of communication, and most importantly, learn from one another).
The P3 class is twinned with schools in Turkey, England and the South of Scotland and make and send them postcards, telling them about what their school is like. Each postcard also contains a QR code which, when scanned, has the Dunbarney children talking, so that the children in other schools can hear their language and dialect. The class posted a video of the Hello song, using Makaton, onto the school's Twitter account.
Article 30: the right to practise your own culture, language and religion. Article 13: the right to find out things and share what you think with others. Article 29: the right to develop your talents and abilities.
November 2019:

The whole school took part in a House Activity afternoon to celebrate the 30th anniversary of UNCRC. All the houses did activities relating to rights, and we had a collection for non-uniform day which raised £155, which we sent to UNICEF.
Culzean House thinking about Article 7: the right to a name
Glamis House enjoying Article 31: the right to play
Culzean House enjoying Article 24: the right to nutritious food
Urquhart House talking about Article 2: all the children of the world share these rights.
Drummond House enjoying Article 31: the right to play
End October/early November 2019:

The P7s launched this year's poppy appeal, to raise money for service personnel.
Article 38: The right to protection and freedom from war. Children under 15 cannot be forced to go into the army or take part in war.
September /October 2019: The P7 class

launched their "You 2 Can Help" campaign, encouraging everyone in the school to bring in 2 cans of food which will be donated to the Foodbank to help people who cannot afford to buy all the food they need to feed their families each week. The whole school and the wider community rallied round and each class had collection boxes in their classroom. It culminated in a Harvest Assembly at Dunbarney Church, and then all the food was taken to the Foodbank in Perth.



Article 24: The right to nutritious food.
June 2019:

P6 put on a performance of Sleeping Beauty for parents and the community, and asked for donations for Water Aid. They raised £32.35, which was sent to Water Aid.
Article 24: The right to safe water to drink.
2nd May 2019:

The Makaton choir went across the road to Moncrieffe

Care home today to perform for the residents today.
Article 29: developing your talents and abilities.
March 2019:

At today's meeting Avril Fulton from Dunbarney Church's eco group and Brig in Bloom, came to talk to us about combining to raise awareness of Toilet Twinning. She invited us to take part in the Church Greener Living Fair on Saturday, 16 March from 2pm - 4pm. We made a display and posters, and those committee members who could attend the fair came along to help out and spread the word about toilet twinning.
Sam, one of our RRS Committee members for Primary 4 also told us that he and his dad are running a marathon, a chunk at a time, and is being sponsored to raise funds for toilet twinning. 1 in 3 people in the world do not have a toilet. £60 is enough money to twin your toilet to a new one, and will pay for drainage, clean water and sewerage. This is the website address to find out more information:
https://www.toilettwinning.org/
The minutes for the meeting are below:
/docs/rrs_minutes_4_3_2019.pdf
February 2019:

At today's meeting we went over the Powerpoint presentation put together by the P7s, and the posters created by the other Committee members to present to the whole school at assembly. This is to launch our Toilet Twinning campaign.
The minutes for the meeting are below:
/docs/RRS_Minutes_18_feb_2019.pdf
January 2019: At today's meeting we discussed how the pedestrian crossing idea would not be feasible, so agreed on a different campaign of Toilet Twinning, to raise awareness and funds to help make sure all people have the right to privacy (article 16), the right to clean water (article 24) and the right to not be exploited (article 36), by having access to toilets. This campaign has already been started by the Church and we hope to work in conjunction with them. We came up with a variety of fundraising ideas, and will launch the ideas at a school assembly soon.
The minutes of the meeting are below:
/docs/rrs_minutes_21_1_19.pdf
November 2018:

At the meeting held at the beginning of the month the RRS committee developed a plan to try and implement a change for the better for the whole community - namely changing the location of the pedestrian crossing in Bridge of Earn. It is our hope to enlist the help of local councillors. We want to spread the word around the school and the community that, as a school, Dunbarney is going for the Gold Award from Unicef for Rights Respecting Schools.
The minutes for the meeting are below:
October 2018:

We held our first RRS committee meeting of the new academic year. Minutes are shown below:
/docs/rrs_minutes_2_10_18.pdf
September 2018:

Welcome to a new school year and a new Rights Respecting Committee, led by P6 teacher Miss McKinnon, supported by Mrs Anderson. We would like to thank Olivia's mum, Miss MacKinnon, for being our parent member on the committee too.
This year we are going for Gold and will be applying for our Gold award (we already have Silver, meaning we are classified as a Rights Aware school). We held our first meeting last week where we welcomed everyone to the group, and made banners, pictures and descriptions of ourselves for the RRS board.
January 2018: Thank you to all the many entrants to the 12 Tweets of Christmas competition. The winner was drawn by Rev Wilson at the Christmas Church Service and was Ellie C. in P2, so well done Ellie. We hope that reading the tweets over those 12 December days gave people a chance to reflect on how lucky we are to be able to enjoy so many rights from the UNCRC as part of our daily lives.
December 2017: The Rights Respecting Committee is running The 12 Tweets of Christmas this year, with a competition which pupils can enter for a chance to win a Smiggle Goody Bag. We want everybody to think about some of the rights from UNCRC which we may just take for granted, but which children around the world struggle with on a daily basis.
Anybody who wants to enter the competition can write down the Article number and message from each of the 12 RRS tweets running on school days from 4th to 20th December on the forms available in class. Hand the completed forms to your RRS class representative, teacher, Mrs Drysdale or Mrs Anderson by the end of Thursday 21st December. A winner will be drawn from the correct entries and will be announced at Church Service on the last day of term, 23rd Dec, and will receive their goody bag.
The 12 tweets can be found daily on Twitter, the school Facebook Page and will also be put up on this website page. The Twitter feed is always shown on the home page of the school website. We will recap the tweets so far at the end of the next 2 weeks. Good luck everybody!
8/12/17: The first 5 tweets have been:
Day 1: Article 14: The right to choose your own religion and beliefs.
Day 2: Article 24: The right to safe water to drink.
Day 3: Article 32: The right to protection from work that harms you, and is bad for your
health and education.
Day 4: Article 24: The right to nutritious food.
Day 5: Article 36: The right to protection from any kind of exploitation.
15/12/17: The second 5 tweets have been:
Day 6: Article 22: The right to special protection and help if you are a refugee.
Day 7: Article 24: The right to the best health care possible.
Day 8: Article 38: The right to protection and freedom from war.
Day 9: Article 24: The right to a clean and safe environment.
Day 10: Article 19: The right to be protected from being hurt or mistreated.
Day 11: Article 32: The right to be safe.
Day 12: Article 30: The right to practise your own culture, language and religion.
---
September 2017: Today, 15th September 2017, the Rights Respecting Committee led the school assembly to present all the class charters, which every class, from Nursery to P7, have come up with. It started with a new Rights Respecting song which P2, P3 and P4 have already learned, and which we want the rest of the school to learn too. The following Youtube clip shows both the SHANARRI song and the Rights Respecting song. The one we showed today starts at 2 minutes 25 seconds into the video.
https://youtu.be/Rights Respecting Song
We then had a quiz hosted by Freddie and Gemma to get our brains thinking about what being a Rights Respecting School means. Here are photos of our RRS members delivering their class charters to the whole school.
This was followed by a special presentation by P7 about those children who cannot access education and who are being denied their right to Article 28. P7 told us that 124,000,000 (that's one hundred and twenty four MILLION!!!) children around the world have either never been to school or have been withdrawn from school. This is nearly double the entire population of the whole UK.
Welcome back to the 2017/2018 school year. Thanks to all of you who donated shoes on the last day of the Summer term. Representatives of the Rights Respecting Committee took these along to Clarks in Perth on 21st August, to start them on their journey to help others.
All gone!
In May 2017, RRSA and Clarks began a partnership to support education programmes for children around the world through an initiative called ShoeShare. We are pleased to have joined this campaign, and to have helped others in the Third World.
Follow the link to learn more about this initiative.
https://www.unicef.org.uk/rights-respecting-schools/shoeshare/
Watch the youtube video explaining the programme at:
Our most recent minutes from the meeting of 5th May 2017 are here:
/docs/rrs_minutes_5_may_17.pdf
Fair Trade Fortnight:
Our

Fair Trade Treat Sale on Friday, 10th March raised a huge £105.16 to buy food for Perth and Kinross Food Bank. The chocolate crispy cakes were made using Fair Trade chocolate and Rice Crispies kindly donated to us by Bridge of Earn Co-op.
Representatives from the Foodbank came to the school on Monday 13th March to pick up the food which we had collected along with all the food and toiletries which Mrs Drysdale bought over the weekend, using the money raised on Friday. They seemed quite overwhelmed with the amount of food which we were donating. Our RRS committee helped them to carry everything to the car, and they could only just fit it in! A massive thank you from the RRS committee to everybody who donated food, bought treats, the Co-op who donated Fair Trade ingredients to make the crispy cakes, and to Perth and Kinross Food Bank for picking up the goodies. We are really proud to be working together to help those less fortunate than ourselves within our community.
This is what we had collected into the school, before Mrs Drysdale spent the proceeds of the treat sale. Thank you all so much for your generosity and your community spirit.
Supplies were given by the Co-op to make the cakes.
This fundraising links to Article 27 - you have the right to food.
-------------------------------------------------
It was World Book Day on Thursday, 2nd March, and we all dressed up as our favourite book characters and donated money, as well as taking part in loads of fun reading-themed activities. You can see the full gallery of photos by clicking on the News, then Galleries tab.
We raised £114, and the money raised has been sent to School Aid - a charity which sends books and educational resources to schools in need in Africa.
You can look at the work School Aid do by following this link: https://www.school-aid.org/
This fundraising links to Article 28 - you have the right to an education.
Our most recent minutes from the meeting of 24th February 2017 are here:
/docs/rrs_minutes_24_2_2017.pdf
February 2017: Our Right of the Month is Article 8: "you have the right to a national identity and culture". This ties in well with our whole school topic, across all the classes, of "Scotland".
The first meeting of the new committee took place on Friday 27th January 2017, and all the committee representatives shared what had taken place with their classes afterwards. Here are the minutes of that meeting:
Our first RRS meeting had some great collaborative working and co-operation to come up with some good ideas for how to mark Fair Trade Fortnight.
Some of the older children are going to write a letter to the Co-op asking them if they will help us run a Fair Trade Tuck Shop on Friday, 3rd March by donating some Fair Trade bananas and chocolate, which we will sell to the school children before morning break. All the money raised from the Fair Trade Tuck Shop will be donated to a local food bank, to help others less fortunate than ourselves.
New Rights Respecting Committee 2016-2017
Thank you to everyone who applied to join the Rights Respecting Committee this year. There were many excellent entries, and it was a very difficult choice to make, but Mrs Drysdale and Mrs Anderson finally decided on 2 pupils from each class, to spread the workload for the committee. The RRS members for this year are as follows:
P1: Ava Burke & Travis Fowler
P1/2: Jessica Barrie & Harry Baxter
P2/3: Joe McDiarmid & Oliver Stewart
P3/4: Ella Lennon & Karis Garrow
P4/5: Abbi Ogilvie and Ciaran Muir
P5: Erin Irving & Nala Chan
P6: Gemma Langton & Freddie McCreanor
P7: Katie Brown & Leah MacDonald
Our parent's representative for this year is Miss Debbie McKinnon, mum of Olivia in P4/5. Particular thanks to her for agreeing to give up her free time to attend meetings in school.
Our thanks also go to last year's committee, including Mrs MacDonald, who all played a large role in helping the school achieve their RRS Level 1 award. This year's committee will be working towards helping the school achieve Level 2, which is our next target.
Our Rights Respecting theme of the month for December is a Rights Respecting Advent Calendar, which is up in the foyer on the RRS board. Each school day we are tweeting the Article of the day for our Advent Calendar, so keep checking the school's Twitter feed.
Each class in the school has their own Class Charter which they have chosen together to show which Rights are particularly important to them. This is what the class displays look like for 2016-2017:

P1 P1/2 P2/3 P3/4

P4/5 P5 P6

P7
August/September 2016
Our Right of the month is Article 7: You have the right to a name.
Day For Change 2016
On Friday, 13th May the Rights Respecting Committee supported Unicef's Day for Change at school, to help fund Unicef's work for children in emergencies. Millions of children are in danger, facing violence, disease, hunger and the chaos of war and disaster. We helped keep children safe around the world, simply by donating our loose change from around the house, down the sofa, lurking in pockets, etc. All the spare change was brought in on 13/5/16 and counted up, going directly to Unicef UK's Children's Emergency Fund. The money makes a difference in the following ways:
4p could provide one tetanus vaccination for a baby born into the chaos of conflict.
£6 could help pay for life-saving treatment for a child with pneumonia, malaria or diarrhoea.
£32 could help keep a child warm with a hat, scarf, gloves, thermal wear, fleece, jackets and boots.
£54 could provide two families with an emergency hygiene kit, including soap, laundry detergent, toothpaste, toothbrushes, sanitary pads and multipurpose cloths.
£100 could provide support for three children who have suffered the psychological trauma of war.
£500 could provide clean water for 37 refugee families
This is how much each class raised:
Primary 4 £16.11
Primary 7 £18.05
Primary 1/2 £31.46
Primary 6 £37.64
Primary 3/4 £38.84
Primary 5 £39.62
Primary1 £50.85
The winning class was Primary 2/3 who raised £53.52
We raised a total of £318.31

Thank you for all your support.
We are delighted to announce that on 31st March 2016, the school was assessed by Gerry McMurtrie of Unicef, and we were awarded our Level One award as a Rights Respecting School. You can read the UNICEF report on the assessment here:
We are very proud, as a whole school, of this achievement, and the hard work and commitment of pupils and staff to bring this about. In the whole of Perth and Kinross we are only the fifth school to achieve RRSA Level 1, with only 4 schools achieving Level 2, which will be our next goal. Well done everybody.
Dunbarney Primary classes are beginning to use Unicef's Children's Rights Launchpad website in school https://launchpad.unicef.org.uk/intro/, which is a free resource taking children and young people in Scotland on a journey to explore their rights and how to enjoy them through a fun game. Here are some of our P7s enjoying the journey:
March 2016 -

Well done to Leah MacDonald in Primary 6 who won the Bridge of Earn Sports Hub "Design-a-Logo" competition which the Rights Respecting Committee launched in the school. Leah won a £20 Campus Sports voucher and a signed print of her logo. This is her winning design:
Our Buddy Film
We have a buddy system at Dunbarney Primary School. P7's buddy up with P2's and P6's buddy up with P1's.
Buddies provide support to the infants in many areas of school life such as playground support and in curricular areas such as reading and spelling. This helps ensure everyone achieves article 28 of the UNCRC, the right to an education, by providing extra support to our younger pupils.
This film was made by Emily and Mcauley to celebrate the hard work and support offered by the buddies.
January/February/March 2016:

Our Right of the Term is Article 29: "Your education should help you to use and develop your talents and abilities".
Each member of each class wrote down what their own talent or hobby is so that we could all see the wonderful and diverse range of skills and activities which we all enjoy. These class posters are now on display in the entrance foyer.
P1 P1/2 P2/3 P3/4
P4 P5 P6 P7
As you walk around our school you can see that the class artworks and displays link to the articles of the UN Convention on the Rights of the Child. Here are some examples:
Rights Respecting School Group
Our Rights Respecting Committee presented the new Playground Charter and equipment to the school at Assembly on 16th November. All our playground supervisors give out house point stickers to those children they see demonstrating rights respecting actions during break times, which are converted into house points in the classroom. Our football pitch has now become an "Activities Pitch", with weekly alternating ball games available. This will keep the main part of the playground a safe place for those children who choose to play other games. We are encouraging the children to help share their knowledge of the different ball games, such as netball, with younger children and to help include all those who want to play. The equipment is proving very popular, so thanks again to our generous Parent Council for giving us money to buy new equipment.
Feb 2016 update: we are lucky enough to have been able to buy more chalk board games for the playground to encourage teamwork and co-operation, and to give children more choices for quieter play, as well as new 3-legged race ties and French Skipping elastics which encourage co-operation.
UN Convention on the Rights of the Child Article 31: We have the right to play
At present we are working towards our level 1 Rights Respecting School Award and are expecting an assessment by Unicef on 31st March 2016. For more info, click on the link below.
UNICEF Rights Respecting School Award
We organised a competition to design a logo for our Rights Respecting Group at Dunbarney. Here are the class winners. Our overall winner was Freya.