Related Pages
{DIARY_CALENDAR}
Welcome to the P7 Class Page
Ms. McLaren
Support: Mrs Paterson
Our topic this term is World War II
On Friday, 6th March, the whole school celebrated World Book Day by dressing up as book characters, and enjoying book-themed House Activities in the afternoon. The P7s were house leaders, having planned and prepared all the activities for the four school houses, and did an admirable job of leading the groups in a fun afternoon.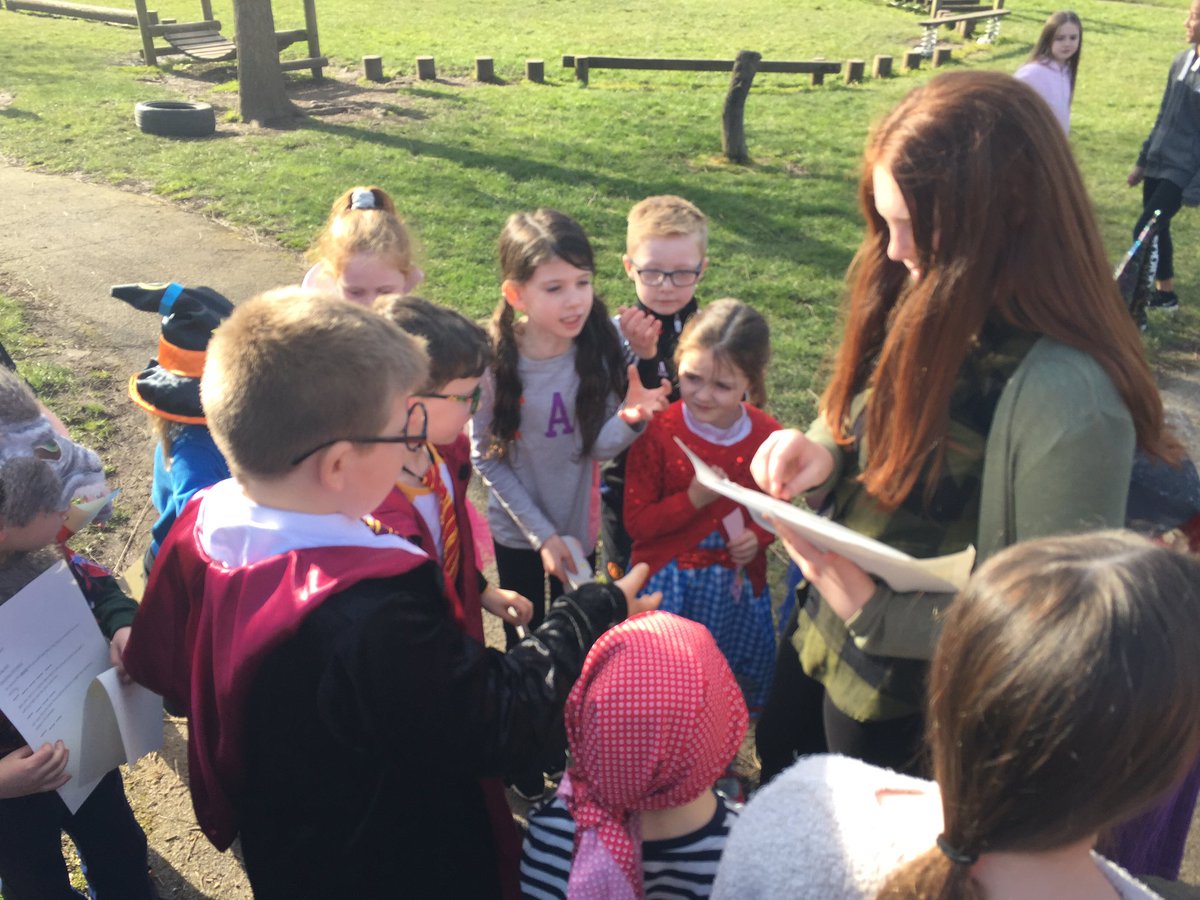 With our annual Scottish poetry competition fast approaching, here are the poems which the children have chosen from this year. Please help your child practise at home, as the best performances are always those with lots of expression and actions, where the child knows the words by heart.
McAllister Dances Before the King by D.M. Mackenzie
Clansmen, the peats are burning bright,
Sit round them in a ring,
And I will tell of that great night
I danced before the king!
For as a dancer in my youth,
So great was my renown,
The king himself invited me,
To visit London town.
My brand new presentation kilt
And ornaments I wore;
And with my skein dhu,
I rapped upon the door.
Soon I heard a Lord or Duke
Come running down the stairs,
And to the keyhole put his mouth,
Demanding who was there!
'Open the door' I sternly cried,
'As quickly as you can.
Is this the way that you receive
A Scottish gentleman?'
The door was opened;
word went round,
'McAllister is here.'
And with the news, the palace rang
With one tremendous cheer.
The King was sitting on his throne,
But down the steps he came.
Immediately the waiting Lord,
Pronounced my magic name.
And all the ladies of the court
With pearls and jewels bedecked,
Did blush and tremble as I
Bowed to them with due respect.
Slowly at first with hands on hips,
I danced with ease and grace.
Then raised my hands above my head,
And swifter grew my pace.
At last no human eye could see
My step so light and quick.
And from the floor great clouds of dust
Came rising fast and thick.
The King was greatly moved,
And shook my hand in friendship true.
'Alas,' he said, 'Although a king,
I cannot dance like you.'
And then the gracious queen herself
Came shyly o'er to me,
And pinned a medal on my breast,
For everyone to see.
Her whisper I shall n'er forget,
Nor how her eyes grew dim.
'Ach, where were you, McAllister,
The day I married him!'


Here are many good website links to find out more about World War II:
Blitz sounds
Air raid in progress-good
Fire engines
Spitfires scramble
All clear
http://www.bbc.co.uk/schoolradio/subjects/history/ww2clips/sounds/air_raid
Anne Frank
http://www.annefrank.org/en/Subsites/Home/
Very good video
Usborne quicklinks
http://www.usborne-quicklinks.com/uk/uk_entity_pages/uk_select_link.asp?lvl=2&id=2542&topic=23771
Loads of links
http://www.pbs.org/wgbh/nova/decoding/virtwave.html
Enigma machine
Auschwitz
http://fcit.usf.edu/holocaust/resource/VR/AUS2S.htm
Panoramic views
A Wartime home
http://www.bbc.co.uk/history/ww2children/warhome/warhome_intro.shtml
Rationing challenge
http://www.bbc.co.uk/history/ww2children/ration/ration_intro.shtml
Evacuees letter
http://www.bbc.co.uk/history/ww2children/letters/letters_intro.shtml
Research challenge
http://www.bbc.co.uk/history/ww2children/research/research_intro.shtml
Air raid sirens
http://www.bbc.co.uk/history/ww2children/research/radio_and_sounds/r_and_s_index01.shtml
Radio clips
Including Chamberlin's speech
Run rabbit run
Blitz
Churchill finest hour
Vera Lynn
1940 news summary
Evacuee interview
German surrender
http://www.bbc.co.uk/schoolradio/history/worldwar2audioclipslibrary.shtml
Imperial war museum
http://www.learningcurve.gov.uk/homefront/preparations/
Scotland in WWII
http://www.bbc.co.uk/scotland/education/as/ww2/index.shtml
Scots at war site (***)
http://www.fettes.com/scotsatwar/
Send a coded message
http://www.pbs.org/wgbh/nova/decoding/
Female spies
http://www.spartacus.schoolnet.co.uk/2WWwomen.htm
Evacuees movie, Dunkirk, Secret army, Bombers and bombed, D-day(***)
http://www.bbc.co.uk/history/war/wwtwo/launch_ani_wwtwo_movies.shtml
http://www.schoolhistory.co.uk/year9links/wwi_sheets.shtml
http://www.teachengineering.com/collection/cub_/activities/cub_air/cub_air_lesson05_activity2_worksheet.pdf
30.10.19: Carly and Kylah chatted today about what they have been learning recently. The new Promethean Board in class has been exciting and is much more interactive than the old board, so they are enjoying that. The class have been note-taking about the ISS (International Space Station), so that they will be able to write a story about it. Their Astronaut Training continues in PE, and they enjoyed the "Flying Eggs" project where they had to pad and protect a raw egg and construct a parachute for it then drop it from the high platform in the park. If it landed safely, without smashing, they had completed the challenge successfully.
In Maths, the class have been working on fractions, and doing many computer-based games to practise their skills, including splat games and TT rockstars.
(http://www.active-maths.co.uk/games1/splat/index.html)
They have been doing Dalguise reflections on Glow, with partners, and have been working on their spelling and grammar using Super SPAG resources. The class do paired reading with the Primary 2 class each week on a Friday morning. They do the date, registers and lunches in French every morning, and are now pretty good at understanding instructions in French. Some of the children also take part in Makaton Choir on a Monday lunchtime
Here are some links which will help the children's learning for Mission to Mars:
http://www.nasa.gov/audience/forstudents/k-4/index.html
Nasa website with latest ISS Crew, Nasa, Kids' Club and much more
http://www.spacekids.co.uk/spacefood/
Eating in space
http://www.space.com/12355-shuttle-launch-glorious.html
Washing in space
http://www.nasa.gov/audience/forkids/kidsclub/flash/
Drive a Mars Rover, Name the next Mars Rover, etc
http://amazing-space.stsci.edu/
Interactive
http://www.panoramas.dk/mars/greeley-haven.html
Mars Panorama
http://news.bbc.co.uk/1/hi/sci/tech/6996121.stm
Timeline
23.10.19: We are continuing with our Mission to Mars topic this term. We will be going to Bertha Park for a transition visit to learn about CPR soon. We will also soon be starting Robotics for the Vex IQ Challenge 2020. We are hoping to get parent helpers with the robotics, so please contact Ms McLaren if you are able to help. If you would like to learn more about vex IQ please look at this website:
https://www.vexrobotics.com/vexiq/competition
This term we will have a Community Games Challenge where members of the Bridge of Earn community are going to come in on Friday afternoons to do problem solving games with the class.
30.9.19: Rachel and Chloe chatted today about what P7 have been learning recently. As part of their Mission to Mars topic they have been doing research about individual astronauts, such as what they are famous for. The class have also been doing astronaut training for their PE lessons. This has included climbing up the wall bars in the gym 10 times and then jumping off, doing 4 sets of 24 push ups and 4 sets of 25 squats.
The class have launched their "You 2 Can Help" campaign, encouraging everyone in the school to bring in 2 cans of food which will be donated to the Foodbank to help people who cannot afford to buy all the food they need to feed their families each week.
In their literacy, the children have been concentrating on their punctuation. They have also been writing about their experiences at Dalguise. Rachel and Chloe both agreed that their favourite thing at Dalguise was the Giant Swing, where they were clipped into a double seat, hoisted high up in the air and then were released to go flying through the air. Both girls said they were scared of heights, so they were really brave to do this.
Most members of P7 have just finished their refresher Bikeability course, to remind them of what they learned last year in Bikeability 2. This is to prepare them for later in the school year when they will be doing their Park Run.
Between 16th and 18th September 2019, P7 went on a fantastic trip to Dalguise, accompanied by Ms McLaren, Mr Johnston and Mrs Dewar.
11.9.19: Amy and Roman chatted today about what P7 have been learning in the last few weeks. They have been doing a lot of learning about the Mission to Mars topic, and have been making mission patches. They have also been working in groups to make fact files about certain planets. In Art, with Mrs Cochrane, they have made pictures of themselves as astronauts, and have also drawn space scenes in chalk. In PE the class have been training like an astronaut, and in Bid Write they have started writing a sci-fi imaginative story. P7 have been working on rounding up and place value in Maths, and they also do TT Rockstars on the iPads or Hot Seat each day (which is where one person sits in the teacher's chair, and the other children ask them questions from the 1-5 times table and then the 6-10 times table. If the person in the hot seat answers all the questions to the 10 times table correctly they get a prize.) Primary 7 children also have extra responsibilities, such as helping with dinner duties, as well as paired reading with Primary 2 children.
Please make sure your child brings a labelled water bottle containing fresh water (not juice) to school each day. All items of clothing should be clearly labelled with your child's name, including PE kits. PE kits should be kept in school. PE will take place on a Thursday with Mr Marshall, our PE specialist, and Art will be with Mrs Cochrane. Please bring in an old shirt to keep in school for use as an art apron.